This test method can also be used to inspect castings for continuous defects (cracks, porosities). VSP leak detectors and vacuum bells are used in particular for leak detection in cases where test specimens are only accessible from one side or when open constructions are involved (e.g. tank bottoms or drip pans). The leak detection limit of the bubble test method that can be realised under practical test conditions is approx. 10-5 to 10-4 Pa*m3/s (10-4 to 10-3 mbar*l/s).

Vacuum boxes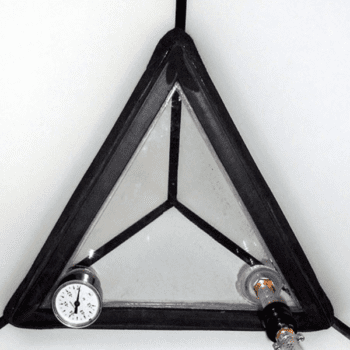 When using VSP-units, the area to be tested (the welding seam or the casting surface) is moistened with a foam-forming inspection material, e.g.  MR® 99 Leak detection spray  Then the area is covered with a vacuum box. The vacuum box is connected to the leak detection unit by a vacuum hose and is evacuated very quickly.
The break-proof inspection glass made of highly transparent, flexible plastic has a special soft rubber seal and is adapted to the geometry of the test area. The vacuum box is evacuated by a freely swivelling valve which seals in any orientation. The valve has a conical adapter for the 1/2″ vacuum hose.
Under the inspection glass of the evacuated vacuum box foam shows up where air flows through continuous discontinuities. To ensure that even tiny leaks become visible the vacuum under the box must be maintained for at least 30 seconds.


VSP-Leak detection unit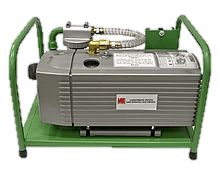 In order to place even larger vacuum bells under vacuum practically immediately after they have been placed on a possibly quite long vacuum hose, vacuum pumps with high suction capacities (up to 16 m3/h) are used in VSP leak testing devices. For the completion of a VSP leak testing device, the vacuum pumps together with all additional units are installed in a stable, welded tubular steel frame. Due to their extensive freedom from maintenance and their robust and consistent design suitable for construction sites, VSP leak detectors have proven themselves in particular for mobile applications.
You will find all products here.