Danatronics' most popular thickness gauges are our EHC-09 series. With thousands of units out in the field, our durable, custom molded case with elevated rubber keypad is rated IP54 and has proven it can handle your toughest jobs (this is a bad way to repair it). The EHC-09 Series is available in 6 models to suit every budget and application. Best of all, our simple upgrade path allows all instruments to be quickly and easily upgraded (directly from the keyboard) with any software option. Features include multi-language graphic display, vibration alarm, fast minimum, echo to echo to ignore coatings, 100K read data logger with export to Excel, B-scan and Live A-scan with waveform adjustment.
Our EHC-09 series is our most popular series. The EHC-09 is available in 6 models ranging from our simplest EHC-09A to our loaded EHC-09DLW.
EHC-09A
The EHC-09A is our entry-level model, which can be upgraded on site, in our EHC-09 series. It can be used with three transducers. The standard and standard transducer is our DKS-537, which measures from .040-20″ in steel. The DC-250 is the preferred probe for weaker materials such as castings and the DK-718 for thinner (.030″ in steel) or smaller diameter applications such as boiler tubes. Our EHC-09 series gauges come standard with a carrying case, 2oz bottle coupler, CD manual and DKS-537 converter.
EHC-09B
The model EHC-09B includes all functions of the EHC-09A as well as the entire fleet of probes offered for the EHC-09 family. The EHC-09B also includes an alarm that beeps on alarm conditions.
EHC-09
The EHC-09 contains all functions of the model EHC-09B. The EHC-09 also includes echo to echo to ignore coatings, vibrate on alarm and reach a fast minimum. The vibration alarm informs the user when a thickness is above or below a preset threshold by vibrating the meter, making it ideal for noisy working environments. Fast Minimum can perform 20 measurements per second and maintain the minimum value while displaying the current reading, gain in low, standard and high settings in 3dB settings, velocity mode to use the instrument as a velocimeter, and hold and difference modes.
EHC-09DL
The EHC-09DL model includes all the features of the EHC-09 as well as a 100,000 read data logger with the ability to export readings to exceed them. It also includes the ability to display B-scans. The EHC-09DL kit comes with a USB cable and a protective cover.
EHC-09W
The EHC-09W combines a live waveform with all functions of the EHC-09 instrument (no data logger). It can also adjust range, gain, blanks and rectification.
EHC-09DLW
This is our top model with all functions of the EHC-09DL and the EHC-09DLW. It includes Echo to Echo, Bscan, a 100,000 read data logger (36,000 waveforms) and a live waveform.
| | |
| --- | --- |
| Size (LxWxH): | 127×76.2×31.75 mm |
| Weight: | 230 gr |
| Material Velocity Calibration Range: | (0.508 – 18.699 mm/uS) |
| Battery life: | Up to 50 hours (25 hours with backlight on) |
| Battery type:   | 2 "AA" Alkalin |
| Display:  | 128 x 64Graphics LCD monochrome, sunlight readable |
| Languages support:  | English, French, Spanish, Italian, Czech, German, Portuguese, Slovak, Finnish, Hungarian |
| Resolution:  | .001″ (.01 mm) |
| Bandwidth: | 0.5-20 MHz (-3dB) |
| Alarms: | Minimum/Maximum depth, vibrate alarm, beeps and display flashes as well as keypad illumination |
Options for the EHC-09 monochrome Series
| | | | | |
| --- | --- | --- | --- | --- |
|   | EHC-09DL-W | EHC09-DL | EHC-09 | EHC-09 B |
| Thickness range:  | .020-20" | .020-20" | .020-20" | .020-20" |
| Hold mode: | yes | yes | yes | yes |
| Freeze Mode:  | yes | yes | yes | yes |
| Fast Min/Max Mode: | yes | yes | yes | yes |
| Units: | yes | yes | yes | yes |
| Alarms:  | yes | yes | yes | yes* |
| Illuminating keypad:  | yes | yes | yes | yes |
| Gain: | yes | yes | yes | optional |
| Differential Mode: | yes | yes | yes | optional |
| Velocity Mode: | yes | yes | yes | optional |
| Non-Encoded B-Scan: | yes | yes | optional | optional |
| Echo to Echo: | yes | yes | yes | optional |
| Datalogger: | yes | yes | optional | optional |
| Carrying Pouch: | yes | yes | optional | optional |
| Live Waveform (A-Scan): | yes | optional | optional | optional |
* does not include vibrate feature
The following accessories are available for the EHC-09 series:
Spring-loaded holder
The spring-loaded holder (SPH-718) is the ideal holder for small diameter applications such as pipes to prevent the probe from rocking. Shown below is the SPH-718 with the DK718 converter inside. The probe can also be rotated and the fixture has V-notches to facilitate probe alignment.
5-Step Test Block
We offer a 5-stage carbon steel test block with nickel-plated surface, engraved in both English and metric languages, with values of .100′, .200″, .300″, .400″, .500″ or 2.54mm, 5.05mm, 7.5mm, 10.0mm, 12.7mm (these blocks are not certified, but can be supplied on special order at an extra charge).
Protective bag
We offer a customized protective cover with the part number PP-09 for the EHC-09 series.
EHC-09 transport case
The transport case EHC-09 is shown with frequent inclusions. (Replacement batteries and 5-stage test block are available separately).
Cable
Two and single cables in 6 feet or other lengths available on request. Shown from left to right: DLM-06, DLM-06ACMP, LM-06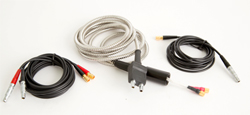 DLSL-09
This Dual Lemo to Microdot adapter is required when using a delayline or pencil probe with our EHC-09 series.
Couplings
We offer a variety of ultrasonic couplings, from a standard gel in 2 Oz. or 12 Oz. Options, up to high temperatures up to 1100 degrees F. Contact us for more details.
Foot Switch
With this hardware option, the operator can store, freeze or send measured values with a foot switch.
AC power
With this hardware upgrade the EHC-09 can be operated with alternating current (please note that this is not a charging system). In other words, with this option the EHC-09 can be operated either AC or battery powered.