Danatronics offers our EHC-09 Color Wave series as a leading-edge product for corrosion applications. The EHC-09 Color Wave offers many standard and practical features, including a sunlight-readable color display with Live-A-Scan, Echo to Echo for Ignoring Coatings, B-Scan, 100K thickness reading data logger with Microsoft Excel interface. The Color Wave is available in 4 models, including EHC-09C, EHC-09DLC, EHC-09CW and EHC-09DLCW. Alarm vibration is a world first and is ideal for noisy environments!
The Danatronics EHC-09 Color series is offered in 4 models, from our EHC-09C to the fully charged EHC-09D LCW with Echo to Echo, B-Scan, a 100k measuring data logger and a live waveform (A-Scan).
EHC-09C
Hand-held digital ultrasonic thickness gauge with color display for thickness only. The following extras are included: Echo to Echo software, plastic case, 2 Oz. bottle coupler (C-02G), 2 AA batteries, manual and DKS537, 5MHz, .375″ diameter transducer with encapsulated cable, data xl interface program.

EHC-09DLC


Contains all functions of the EHC-09C. Additional 100.000 reading data loggers with export to Excel, B-Scan, protective cover and USB cable.
EHC-09CW


Includes all features of the EHC-09C as well as a live color waveform (A-Scan). (No data logger). With the live waveform, you can adjust range, gain, blanks, and rectification.

EHC-09DLCW

Combines all functions such as the digital ultrasonic thickness gauge with live color waveform, 100,000 thickness measurements via the internal data logger including: plastic carrier bag (PC-09), 2 Oz. bottle coupling bottle (C-02G), 2 AA batteries, user manual and DKS537, 5MHz, .375″, diameter transducer with molded cable, carrying case (PP-09), echo to echo (EE-09) and B-Scan (BS-09), USB cable USB-09-6 and Data XL interface program for exporting stored measurements to p.c. (excel)
| | |
| --- | --- |
| Size (LxBxH):  | 127×76.2×31.75 mm |
| Weight: | 230 gr |
| Material Velocity Calibration Range: | (0.508 – 18.699 mm/µS) |
| Battery life: | Up to 50 hours (25 hours with backlight on) |
| Battery type:      | 2 "AA" Alkaline |
| Color Display: | 170 X 220 pixels, high resolution TFT color display |
| Resolution: | .001″ (.01 mm) |
| Bandwidth: | 0.5-20 MHz (-3dB) |
| Measurementrate:  | 4 or 20 measurements per second |
| Alarms: | Minimum/Maximum depth, vibrate alarm, beeps and display flashes as well as keypad illumination |

Options for the EHC-09 Wave Series with Color Display 
| | | | |
| --- | --- | --- | --- |
|   | EHC-09DL CW | EHC-09 CW | EHC-09 C |
| Thickness range: | .008-20" | .008-20" | .008-20" |
| Delay line zero measurement: | yes | yes | yes |
| Scan-Modus: | yes | yes | yes |
| Differential Mode: | yes | yes | yes |
| Alarms:  | yes | yes | yes |
| Illuminating keypad: | yes | yes | yes |
| Automatic probe wear indicator: | yes | yes | yes |
| Waveform: | yes | yes | optional |
| Range: | yes | yes | optional |
| Gain Adjust: | yes | yes | yes |
| Rectification Modes: | yes | yes | optional |
| Echo to Echo: | yes | optional | optional |
| Non-Encoded B-Scan: | yes | optional | optional |
| Data logger: | yes | optional | optional |
The following accessories are available for the EHC-09 series:
Spring-loaded holder
The spring-loaded holder (SPH-718) is the ideal holder for small diameter applications such as pipes to prevent the probe from rocking. Shown below is the SPH-718 with the DK718 converter inside. The probe can also be rotated and the fixture has V-notches to facilitate probe alignment.
5-step test block
We offer a 5-stage carbon steel test block with nickel-plated surface, engraved in both English and metric languages, with values of .100′, .200″, .300″, .400″, .500″ or 2.54mm, 5.05mm, 7.5mm, 10.0mm, 12.7mm (these blocks are not certified, but can be supplied on special order at an extra charge).
Protective bag
We offer a customized protective cover with the part number PP-09 for the EHC-09 series.
EHC-09 transport case
The transport case EHC-09 is shown with frequent inclusions. (Replacement batteries and 5-stage test block are available separately).
Cable
Two and single cables in 6 feet or other lengths available on request. Shown from left to right: DLM-06, DLM-06ACMP, LM-06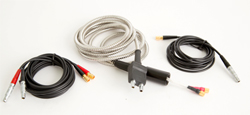 DLSL-09
This Dual Lemo to Microdot adapter is required when using a delayline or pencil probe with our EHC-09 series.
Couplings
We offer a variety of ultrasonic couplings, from a standard gel in 2 Oz. or 12 Oz. Options, up to high temperatures up to 1100 degrees F. Contact us for more details.
Foot switch
With this hardware option, the operator can store, freeze or send measured values with a foot switch.
AC-power
With this hardware upgrade the EHC-09 can be operated with alternating current (please note that this is not a charging system). In other words, with this option the EHC-09 can be operated either AC or battery powered.